Noom Mood
More Joy. Less Stress.

We've spent the last 13 years helping millions of people meet their health goals, from weight loss to managing diabetes. Now we're here to help you tackle stress with Noom Mood.
Learning to manage your daily stress is a journey, and the first step is often the hardest. That's why we're here to guide you, step by step, to mental wellness – and help you develop the techniques, emotional awareness and resilience to reduce stress and live a happier life. We'll give you the knowledge and support you need, so you feel empowered to take on whatever comes next.
We help shift your mindset.
Noom's mission is to help people everywhere live healthier, happier lives – and that starts by realizing that you are the greatest force in your health journey. What sets us apart is that we're a highly structured program that provides the insight, education and skill development to help you understand the "why" behind your stress, so you know how to manage it now – and always.
Noom Mood does not offer evaluations or treatment plans, and is not a replacement for therapy.
Find peace of mind. Here's how we'll help.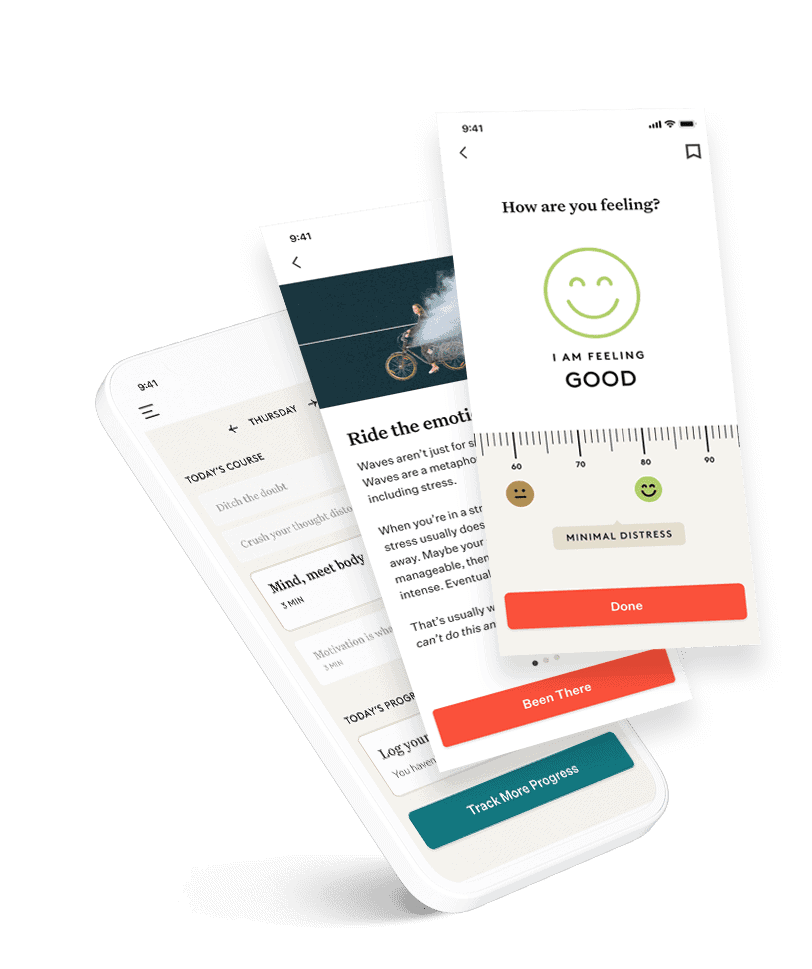 We're powered by science and psychology.
Rooted in psychological principles, our lessons help you develop coping mechanisms to better manage your stress. Through behavior change, the program will empower you to take control and build resilience – so you can worry less, sleep better, and, ultimately, feel happier.
We have tools you'll actually want to use.
We'll equip you with a variety of mindfulness-based techniques and skills, and daily mood logging to help you understand your progress. You'll gain practical knowledge and insights you can put into action right away.
We offer structure, on your terms.
Every person's journey is unique; there is no one-size-fits-all approach. We have a guided curriculum you can navigate at your own pace – and you're assigned a human coach who offers direction and encouragement along the way. You choose the kind of support you need.
We know convenience is key.
Our program is broken down into bite-sized lessons and activities that are fun, easy to follow and take only 10 minutes a day to complete – so you can conveniently fit Noom into your schedule. On the go? Our digital platform means you can reduce your stress anytime, anywhere.
Real people. Real results.
"The lessons in the Noom app made me feel 'normal' instead of feeling like there was something wrong with me for getting stuck on thoughts or jumping to the worst-case scenario. It helped show me how to balance and give myself grace, which I was in desperate need of."
"Noom has helped my mental wellness because I truly feel like I am in complete control of my emotions. They no longer run me, and that all starts with my thought process. I am so happy I took that first step."
"Noom helped my mental wellness by teaching me different tools and techniques for grounding and centering myself when faced with stressors. I came to Noom overthinking and letting anxiety run my life. Now, after graduating from Noom, I feel more in control of my thoughts and emotions."
Find your happiness with Noom Mood.